PartyNite Metaverse and ARC forge a sustainable collaboration with ARCade Island
Sep 20, 2023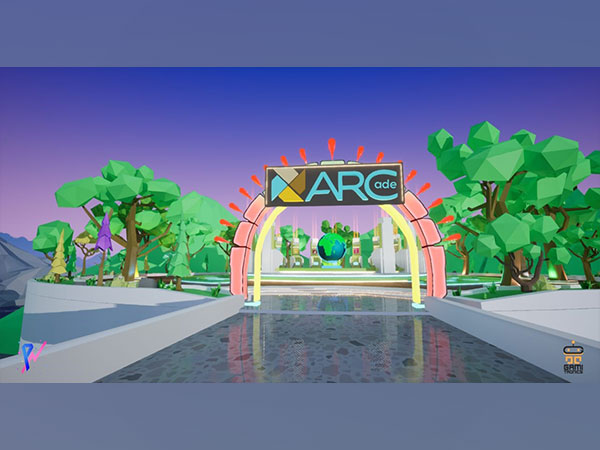 VMPL
Mumbai (Maharashtra) [India], September 20: Gamitronics, a pioneering force in the field VR/AR, gaming and Metaverse is proud to announce its groundbreaking collaboration with ARC, a leading advocate for sustainability education. Together, they are shaping the future of education and sustainability through their innovative project, ARCade Island on Gamitronics's Partynite Metaverse. ARCade Island, set within PartyNite, is a virtual haven that marries entertainment with education, creating a dynamic learning environment for children. This virtual island is designed to promote sustainability by offering an array of interactive activities and games, all built around the 17 pillars of sustainability as defined by the United Nations Sustainable Development Goals.
The ARCade island comprises three main areas:
1.  Learning Area: A space where students can engage with educational content through videos, readings, and interactive resources, fostering a deeper understanding of sustainability.
2.  Networking Area: Here, students can connect with their peers to collaborate on tasks and projects related to sustainability, fostering teamwork and a sense of community.
3.  Activity Area: Packed with activities, tasks, projects, interactivities, games, and more, this area keeps students engaged and motivated to take actions that contribute to a more sustainable future. Being part of metaverse, every activity is complete social in nature and driven by the community with a singular focus.


One of the unique aspects of this collaboration is the seamless integration with ARC's published books. Students will be able to access ARC's print material directly from Partynite Metaverse platform, further enhancing their learning experience.
Rajat Ojha, CEO of Gamitronics said, "The creation of ARCade Island represents a huge shift in how we approach education, sustainability, and interactive learning, especially at the school level. This innovative project holds the promise of not only enhancing the educational landscape but also inspiring future generations to become champions of sustainability. Together, we are building a digital world where learning is fun, collaborative, and has a lasting impact. This further establishes our narrative in favor of using metaverse for empathetic, collaborative and in a fun way."
Anit Gupta, Founder of ARC shared his thoughts on the collaboration, saying, "This partnership will create a unique world for future generations. ARC currently has a wealth of content in print format. Digitizing all of it and building engaging games around it will createa whole new world for our students. We have a huge network of students because of many schools who are currently using our books as a part of their regular curriculum. ARCade Island will bolster the learning process by adding a call to action and sustainability is a subject that has to transformed into habits, so action is the cornerstone of our curriculum"
To regulate access and content for minors, PartyNite will collaborate with schools to enable students to use their school IDs. For others, KYC measures will be implemented to verify user identities. Stringent measures will also be in place to ensure age-appropriate and globally compliant content. The project is set to go live in phases, with the first phase scheduled for release in October. The Global Sustainability Awards event on October 16th in Delhi will serve as a platform to showcase the metaverse to school leaders, potentially garnering immediate sign-ups from schools eager to integrate this innovative tool into their educational programs. Parents and teachers will play an integral role in the project, as they will receive detailed performance analyses of each student, along with tips for improvement. Leaderboards, scoreboards, and achievements will also be shared with parents & teachers to track the progress of each student.
About PartyNite


About ARC


(ADVERTORIAL DISCLAIMER: The above press release has been provided by VMPL. ANI will not be responsible in any way for the content of the same)